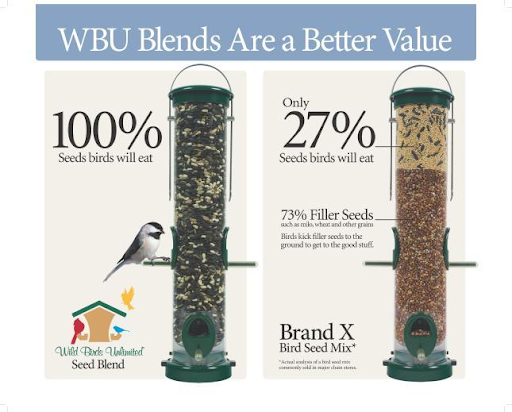 Better Food
Our foods are second to none in quality and freshness. We receive fresh seed weekly, rotate our stock weekly, and our temperature controlled storage area ensures you get the best seed possible.
No-Waste Seed
Poor-quality bird seed blends found at grocery and hardware stores can be a waste of money, as most of the undesirable filler seeds just end up rotting on the ground under the bird feeder. Common fillers added in these poor-quality blends are Milo and Grains/Oats (click here to see what birds you'll attract with Milo and Grains/Oats).
We believe your birds shouldn't have to search through the fillers to find the food they actually want. More importantly, we believe you shouldn't have to pay for the filler!
All of the food sold at Wild Birds Unlimited - Green Bay is No-Waste - meaning it is made from 100% edible seed. And each blend has been exclusively formulated for the feeding preferences of the birds in our area. That means you only pay for fresh seed that the birds will actually eat, not toss to the ground creating a mess. Our seed will attract the kind of birds you want to see in your backyard, absent all fillers!
No-Mess Seed
Not only are all of our foods No-Waste, but many of our selections are also No-Mess. All of our No-Mess bird seeds and seed blends feature seeds that have had their shells removed so only the meat of the seed is left. No hulls on the seeds makes for tidier feeding, since there's no debris on the ground to clean up. No shells on the ground also means less chance of rodent issues under the feeder, less chance of weeds popping up - making it a perfect bird seed for near flower beds, patios, and decks.
And pound for pound, our regular No-Mess Blend bird seed offers you the best in value because you're not paying for uneaten seeds and shell waste - it takes almost two bags of a regular blend with shells to get as much edible matter as in one bag of a No-Mess blend.
At Wild Birds Unlimited - Green Bay, we carry No-Mess Blends, No-Mess Straight Seeds, along with No-Mess Seed Cylinders and Suet Cakes.
Seed Cylinders
Our popular seed cylinders are a no-waste, economical way to feed the birds. They are also an excellent choice to use while you're away from the house for an extended period of time because the cylinders last longer than loose seed. You've worked hard to attract your birds - don't let your feeders sit empty while you're out of town.
Suet Cakes & Suet Cylinders
We carry a variety of quality, high energy suet - providing your birds with the energy necessary for migration, nesting, or to get them through the winter months.
Bark Butter & Bark Butter Bits
No bird food attracts more species of birds than Jim's Birdacious Bark Butter®. Created by Jim Carpenter, founder of Wild Birds Unlimited, Bark Butter is a spreadable suet that can be easily smeared on tree bark or a Bark Butter Feeder. Bark Butter Bits® are bite-sized nuggets made from suet and other high-quality ingredients your birds will love. These products will attract a variety of birds, including some that do not normally visit feeders.
Hot Pepper
If you are looking to feed just the birds without the expense of feeding squirrels, our Hot Pepper seeds, cylinders, and suets may be the problem solver for you.
Meal Worms
Meal worms are a great way to attract insect eating birds; like bluebirds, orioles, and chickadees. We offer both fresh and dried worms.
Let one of our Certified Birdfeeding Specialists help you choose the foods that are right for the birds you want to attract.
| | | |
| --- | --- | --- |
| | | |
| No-Mess Blend varieties | Seed Cylinder varieties | Suet Cake & Cylinder varieties |
| | | |
| | | |
| Bark Butter varieties | Hot Pepper products (deters squirrels) | Live & Dried Mealworms |
| | | |
| | | |
| Jelly & Nectar | Seasonal Nesting Blend | Seasonal Winter Blend |
| | | |